Parents, Guardians, and Students: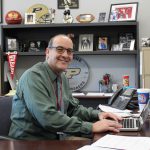 It's Spring time at Lewis Cass with warmer weather ahead.  This school year has been a great success and I encourage the students, staff and parents to finish the school year in a strong fashion.  As we enter the stretch run of the school year, I encourage you to continue to communicate frequently and openly with the school.  If you have questions about class scheduling or state testing, please contact me at yound@lewiscass.net. I also ask that you encourage your child each day and ask them how their day went.  Your involvement with the school makes a world of difference for your child.  
Please don't hesitate to stop by my office or call Mrs. Guy or me at 574-626-2511 if you have any questions. I also encourage you to follow me on twitter @CassKingsDon.  By working together we can make this a great year for your child!!
Don Young
Principal
Lewis Cass High School